Neurolinguistic Programming
NLP Practitioner Training Debunked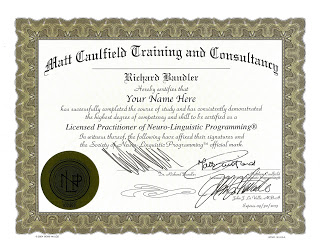 What value is there in holding an NLP Practitioner certificate? There is no overall governing body to supervise the quality of any certification awarded. NLP is a fake pseudo-science so it is impossible to oversee. In 2009, a British television presenter was able to register his pet cat as a member of the British Board of Neuro Linguistic Programming (BBNLP), which subsequently claimed that it existed only to provide benefits to its members and not to certify credentials.
Yet many people and even companies spend thousands to attend NLP Practitioner training schools and then proudly display this on their CV as if it is real.

The article
?NLP is Dead?
in Trainingzone describes the state of the NLP training market.
?Regardless of what any trainer, reading this, will plead, there are no quality standards across the market, and regardless of any claims to the contrary, there are enough people who only received certificates for turning up to the training that damage is done to everyone with a certificate.?

?We criticise people who buy university degrees, but buying a Practitioner certificate is no different, I?m afraid.?

?Some NLP trainers have followed the same path, I?ve seen a 18 day Practitioner course for £495, and I suspect there are even lower price courses around. I also suspect that a worrying number of course places are being given away, just to make the courses seem more valuable to the few people who are paying heavily discounted rates.?

?No matter how trainers dress it up, an ?early bird discount?, a bursary or a special rate for public sector staff means cutting prices to attract students. But price is not the barrier. The barrier is that people out there don?t need NLP. The NLP industry has done nothing to cultivate need, and nothing to protect investment.?
A quick search on Ebay reveals that an NLP Practitioner certificate can be purchased quite cheaply. Seller skinfabuk offering them for £165. You have to take an online exam. But if it is online then you can have all the course material at hand to look up the answers or even just get someone else to take the exam for you. The course is accredited by the British Association of Hypnotherapy NLP (BAHN), a scam organisation.
Welcome to the Premier Hypnotherapy & NLP Practitioner Training Centre
Course accredited by the

British Association of Hypnotherapy NLP

(BAHN)
.........
(e)
Written exam, carried out over the internet. On passing a certificate is awarded

which entitles the bearer to use the letters DHP after their name
.........
Personally I prefer JGC (Jolly Good Chap) after my name, it is more authentic.
As if that wasn?t enough I then found seller advancedhypnotherapy offering a set yourself up as an NLP trainer pack for only £39.99 with the ability to scam others for £1,500 each and print off your own worthless certificates!
Teach a Complete 5 Certified NLP Practitioner Course
Run your own NLP Practitioner Course.
Most courses Cost around £1500 for each person attending.
This is a complete 5 day course and consists of the following material:
Ø
5 days of Power Point presentation
Ø
5 Days of Trainers Notes
Ø
A 48 Page Student Exercise Book
Ø
A 281 Page Student workbook
Ø
NLP Session Plan (Blank for you to fill in the times)
Ø
Neuro Linguistic Programming Examination Paper
Ø
Neuro Linguistic Programming Examination Paper ? Answers
Ø
NLP Practitioner Certificate (Can be tailored to your organisation)
Everything you will need to run the complete course.
All this for Just £39.99 Free P&P
All material will be burnt to a disc and posted to you.
So you could save yourself getting scammed for in excess of £1,500 by buying online for £165. Or even better spend just £39.99 set up your own fake school and print your own certificate. But I would recommend that you take that £39.99 and buy a bottle of champagne and then celebrate that you didn?t get ripped off buying a worthless fraudulent qualification. Then celebrate even more that you didn?t get
brainwashed and join a cult.
-
Nlp Certification
NLP certification NLP Neuro Language Progression, also known as NLP is usually a research of fantastic. It is one of the types of used mind-set and is able of developing a useful modify within an personal. The program position of nlp is very large, due...
-
Neuro Lingustic Programming
Way of life Coach NLP, known in its complete kind as Neuro Language Progression is your thoughts trainer which you will be sure to advantages from. This is a exclusive emotional strategy that will create sure that you get to obtain the most out...
-
The Sh*t Nlpers Say: ?nlp Is A Powerful Set Of Tools.?
Something I have noticed with NLPers is they all say exactly the same things. They are brainwashed (or programmed as they put it) to blindly accept what they are told as the truth and never to question it. This is particularly true when they try to argue...
-
Master Practitioner Dares To Criticize The Nlp Cult.
This show how zealously the leadership guards against insiders speaking out, a common feature of cults. In this case removing his videos from YouTube for mentioning their names. He also some interesting points: Those parts of NLP that work are...
-
Do You Lack Confidence?
ITS IN MY GENES, is what we hear a lot, when it comes to an excuse for a particular behavior. People tend to forget that you have the power over your own reactions. Imagine you have and interview and your dead nervous, you lack the confidence, but you...
Neurolinguistic Programming