I have found that being honest is the best technique I can use.
Right up front, tell people what you're trying to accomplish
and what you're willing to sacrifice to accomplish it.
Lee Iacocca ? Former President Ford Motor Company
Saviour of Chrysler
This element of the program is designed to fine-tune the elements of the programs already taken into a fully functional program for success. Individuals attending this high-energy program will take a completely new focus on life and career perspective.
This fast-moving and in-depth program will tie together the elements discovered so far in earlier programs. It is LSP's intention that participants will discover new and revealing insights into their own behavior. At the same time they will discover their true strengths and learn how to adapt those for true accomplishment and success.
This program is a pre-requisite for the any or continued programs.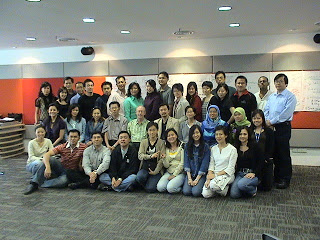 Extend and fine-tune your influence and especially your ability to communicate, coach, motivate, transform and manage.
Develop the skills and behavioral flexibility essential for coping with today's flatter corporate structures, cross-functional responsibilities, team structures and remote management.
Management in the 2000s
The art of managing and leading has always been dynamic. Today, the art is changing more quickly and dramatically than ever before. And the demands made by these changes are generally in what used to be called the soft skills areas such as the ability to be able to -
Communicate easily and skilfully with your peers, direct reports and with senior management;
Understand the thinking and emotional make-up of your team and of the individuals within that team - and of the manner in which these individuals pull together;
Understand yourself so you are not easily influenced or manipulated;
Manage your moods - you are constantly in the public eye and cannot afford to have off-days;
Know what makes people tick and know how to utilize values to motivate individuals - as individuals
; and
Inspire people by 'selling' them your vision and getting their 'buy-in' to this vision...
NLP People Skills
NLP is recognized at one of the best available systems of integrated people-skills and LSP is able to drawn on the experience and well-traveled status of our international coaches in the use of NLP in business.
Who should attend -
All Managers & Team Leaders
Those Seeking Unequaled Growth In Business
Sales Staff Searching For Increased Rewards
Executives With Unfulfilled Potential
Leaders Embarking On A New Career Path
Enterprenuers

CEOs

Corporate Directors
Neuro - Linguistic Programming, popularly referred to as NLP has helped thousands of people get rid of their worries and anxieties in life. NLP, which is a behavioral science, uses techniques from three different fields. They include computer science,...
With Nick Le Force This is truly an experiential International NLP Master Practitioner Certification by Nick Le Force. Take advantage of this and be certified NOW. Nick LeForce has over 30 years of experience in the field of human communication and...
Nobody motivates today's workers. If it doesn't come from within, it doesn't come. Fun helps remove the barriers that allow people to motivate themselves. ~ Herman Cain ~ Motivation is like food for the brain. You cannot get enough in one...
It Matters Little Whether You Believe You Can Do a Thing ? or ? Believe You Can?t, Either Way, You?ll Always Prove Yourself Right Henry Ford (1863 ? 1947) The greatest determinant in our ability to achieve endless success and fulfillment is our belief...
A lot of speculation exists about the yet to be released Forex robot titled The Forex Revolution. With a release date set to be May 18th, 2010 the critics have been looking at the promises the program has been giving and analyzing how effective it will...